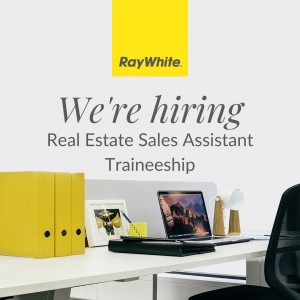 Real Estate Sales Assistant Traineeship
𝗪𝗼𝗿𝗸 𝘄𝗶𝘁𝗵 𝗮𝗻𝗱 𝗯𝗲 𝗺𝗲𝗻𝘁𝗼𝗿𝗲𝗱 𝗯𝘆 an 𝗘𝘅𝗽𝗲𝗿𝗶𝗲𝗻𝗰𝗲𝗱 𝗔𝗴𝗲𝗻𝘁 𝗮𝗻𝗱 𝗴𝗲𝘁 𝘆𝗼𝘂𝗿 𝗿𝗲𝗮𝗹 𝗲𝘀𝘁𝗮𝘁𝗲 𝗰𝗮𝗿𝗲𝗲𝗿 𝗼𝗳𝗳 𝘁𝗼 𝗮 𝗳𝗹𝘆𝗶𝗻𝗴 𝘀𝘁𝗮𝗿𝘁!
Want to work with some of the best Agents in the area? If you have a team-orientated mindset and an ability to follow structure and reach targets a rare opportunity awaits for a traineeship with our leading local sales team and be teamed up with a Senior Sales Consultant. Study the full licence course while you work full time (Cert 4 in Property Services).
We offer great training with a great corporate brand and a focus on amazing office culture. You will learn all the in's and out's of real estate. Work close to home with a team of like minded and fun people here to help you succeed. You will need to be prepared to learn from the ground up as we are focussed on building you a long term career with a solid base of skills which will hold you in good stead for your future career.
Your key responsibilities in this role for the first 12 months will include (but not limited to):
Prospecting for listings and nurturing a client database including cold calling and door knocking.
Handling phone, text and email enquiries from vendors and buyers.
Assisting with private and open for inspections.
Liaise with conveyancers or solicitors regarding a campaign/sale
General appointments and duties
Liaising with clients
Preparing pre listing documentation
Once you are fully competent in these areas then you will progress to assisting with appraisals and conducting your own open for inspections and contract preparation.
To be successful for this position you must possess the following:
Agent Representative Certificate
Clear police record check
Your own car which is well maintained and clean
Valid driver's licence
Exceptional personal presentation
Willingness to learn and a positive can-do attitude
Great organisational skills and time management
Be good with technology
Be street smart
This is a full time position with days of work being Monday to Thursday and Saturday.
OUR OFFICE:
Centrally located in Main Street, Croydon.
OUR TEAM:
Our team has an amazing culture surrounded by fun, motivation and teamwork.
We are well rewarded for hard work and have numerous events throughout the year to celebrate milestones and awards.
Please send your resume and covering letter to croydon.vic@raywhite.com