The REIV 2022 Q1 median house price for Ringwood is
Ringwood $1,028,000
Ringwood East is $1,067,500
Ringwood North is $1,190,000
The Town Square is the vibrant cornerstone of the new Eastland and aims to provide captivating sensory experiences through a melting pot of food and retail adventures, incorporating culinary concepts from our local Eastern landscape to around the globe. This centrepiece is designed to reflect Melbourne's unique food culture and new gastronomic ideas, harnessing the natural abundance of local provenance of the area.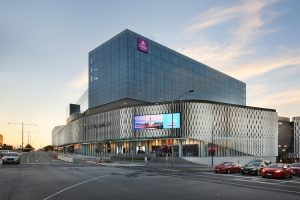 Among the new food experiences is Frank Camorra's culinary ambition for the city of Melbourne, Mexican taqueria Paco's Tacos, and the haute-burger chain Huxtaburger by Huxtable chef Daniel Wilson. Don't forget the Suburbian Dining with its amazing roof top bar.
Venture inside the shopping mecca for an exceptional retail experience that will compel visitors to Eastland and the Town Centre through the introduction of major retailers David Jones and Target, as well as an additional eight mini-majors and approximately 150 new specialty stores featuring iconic national and international brands such as Mimco, Mecca, Endota Spa, Victoria's Secret, H&M, Ghanda, Sass & Bide, Marcs, Country Road and Seed to name a few. The major retailers including Myer, David Jones, Target, K-Mart, Big W, Coles, Woolworths and Hoyts mean Eastland is now a one stop shopping destination.
The access to high performing public schools, such as Ringwood Secondary college as well as renowned private schools Tintern Girls Grammar and Aquinas College is leading to high demand for housing in Ringwood East. The area is now being seen as a real life-style option by people.
Ringwood North has its own shopping centre which includes an IGA as well as Bakers Delight, Brumby's, Gourmet Deli, really fantastic personalised bottle shop called Doc's Liquor – great if you're looking for a special wine to take to dinner or just some general wine advice. The Yarra Blue Cafe is a great place to dine or to sit and enjoy a delicious coffee. Ringwood North also has plenty of parklands and reserves nearby. Cinque Ristorante is the newest on the block providing delicious Italian food from the best ingredients. Family owned and run by the Pezzimenti siblings their menu features recipes from generations. You will also be blown away by the eclectic list of Italian and Australian wines.
Ringwood North is a surprisingly hilly area, which is especially evident around the aptly named Loughnan's Hill area and the infamously steep Glenvale Road. Glenvale Road also happens to mark the boundary between Ringwood North and Donvale. Glenvale Road is also home to an 80 year old Tudor house of very famous heritage. Ringwood's enormous potential is being evidenced by the level of development and renewal projects currently underway in the city's centre.